FAQ
Who's making all this content?
So far, it's been a mix of content created by folks on the team at Looking Glass Factory and our community of Looking Glass creators. You can make your own content using our Holographic Software Suite and submit them to the MadeWith site once you're ready to share it with the world! For more information, please visit our documentation site.
Do I have to have a Looking Glass to launch the content?
To see it in 3D, yes! Using the MadeWith Looking Glass site without a Looking Glass is like swimming without goggles. You'll still be able to do it but we guarantee the experience won't be as magical.
Does Looking Glass Factory take ownership of the content I upload?
Nope. You will always fully own your content. If at any time you want your content removed, email support@lookingglassfactory.com and we will ensure the removal of your work within 24 hours. You can read more about our Terms of Use here. In short, Looking Glass Factory just asks for the minimum amount of rights necessary to run the site, distribute your work and permission to host what you submit.
How do I share my work with other people?
Once your work is on the MadeWith catalog, simply share the link to your application or quilt and those with Looking Glasses will easily be able to access your content.
The desktop apps are not launching as they should on the Library.
Hmmm, that's weird. Let's walk you through a few troubleshooting steps:
Please make sure the version of the Library that you have installed is newer than 0.5.1. If this is not the case, please uninstall any old instances of the Library and download the latest version here.
Please ensure that you set your displays to extended and not mirrored such that whatever is in your Looking Glass display is not mirroring your main desktop.
If it's still not working, please write us at
support@lookingglassfactory.com
and we'll make sure to get up and running soon.
I cannot launch quilts / Holoplay.js apps successfully.
In order to run the HoloPlay.js apps + quilts, you'll have to install the HoloPlay Service. Click here to download it on our website. If you have already installed it, but still get the error message, please check if it is running finding the icon on your Windows taskbar or Mac menu bar. For more details about troubleshooting HoloPlay Service please see this page.
What is HoloPlay Service and why do I need to install it?
HoloPlay Service is a program that facilitates low-level communication between your computer and any connected Looking Glass devices. You need to install it for Madewith site to communicate with your Looking Glass. If you haven't already, please click here to download the latest version of HoloPlay Service.
How do I restart HoloPlay Service?
You can restart HoloPlay Service by clicking the Looking Glass icon on the Windows taskbar or Mac menubar, and select "Restart HoloPlay Service" in the dropdown.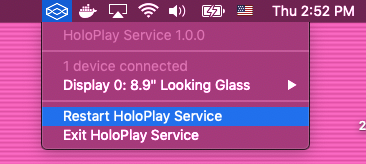 What is a quilt?
The quilt is the format Looking Glass uses to store light fields in sets of views as common 2D images. Views start in the lower left corner, with view 0 being the leftmost view. The views are then added to the right and then up, in a grid, like so:
See more information on our documentation site here.
What is 3D Preview and how do I take 3D screenshots of my app?
3D preview is a quilt image to be shown in the Looking Glass when you hover on the app before you actually launch the content. It must be a 4 x 8 quilt image, ideally 2048 x 2048px.
If you're using our UnitySDK, the easiest way to make a 3D preview is using the screenshot function in the HoloPlay SDK by pressing F10 in Unity editor or builds to save 3D screenshot to the root directory. Please note that the default settings of quilt output is 5x9, you will need to manually change the settings to 4x8.
If you are using UnrealSDK, follow this document about how to take quilt screenshots. Please make sure the settings are set to 4x8 in quilt screenshots.
Alternatively, you can use the Lightfield Photo App by Looking Glass to generate a quilt from a set of photos.
I have some feedback about the MadeWith site.
Feedback? We love feedback. If you notice any bugs or have feedback about your experience with the MadeWith site, please leave them here.